Dining Aboard the Moonlight Lady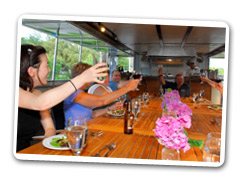 The open kitchen is designed to create the finest of Vermont Country Cuisine. Only the freshest of ingredients are used in the composition of our hearty and healthy meals and the menus have been created to satisfy the tastes of the most discriminating palate.
Our breakfast selections are designed for you to begin the day your way. For early risers, hot coffee and cold breakfast selections are available at 6:30 am. Sit out on the deck and watch the sunrise as you enjoy the peaceful pleasure of a steaming cup of coffee.
Hot breakfast service begins at 8:00 am. Our selections feature fresh fruit, yogurt, cold cereals, oatmeal, bacon, eggs, toast and English muffins. The chef creates a hot specialty of the day such as pancakes, French toast and quiche. Beverages include juice, coffee, tea, decaf and hot chocolate.
Our new Welcome Aboard Lunch is served upon departure from Burlington. On other days, lunch is served at noon. The ever-changing lunch menu offers choices such as deli sandwiches, homemade soup, fresh fruit and light desserts.
Plated dinner service begins at 7:00 pm and the menu changes nightly. Service begins with a mixed green salad, rolls and butter. Entrée selections vary from beef tenderloin, shrimp, scallops, chicken, fish and pasta. Entrées are accompanied with a vegetable and starch of the day and a chef's-choice dessert.
Beverages: The following beverages are served on a complimentary basis: Coffee, tea, decaf, hot chocolate, water from the water cooler, and juice with breakfast.
Cash beverage service is available for bottled water, soft drinks and alcoholic beverages.
We will do our best to accommodate your special tastes and dietary needs.