Cruise Into History
Four-Days, Three-Nights-Includes Historic Land Excursions
Lake Champlain and its surrounding towns and shoreline is abundant in our nation's history. Benedict Arnold, General Macdonough and Samuel Champlain himself, collectively weave some of the most fascinating moments in our past. Climb aboard, listen, learn and walk in the footsteps of our nation's heros. A full-time, on-board historian will be your guide!
On day one, we cruise toward the City of Plattsburgh, NY. As early as Samuel de Champlain's 1609 expedition into the Lake Champlain valley, this region began to fall under the influence of the French - and later under American and English colonial power. With its significant location on a major water thoroughfare and close to the U.S.-Canadian border, Plattsburgh has been the site of a number of historic events including the Revolutionary War's Battle of Valcour Island and the War of 1812's Battle of Plattsburgh. Highlights include Crabbe Island, Valcour Island, Schuyler Island, Fort Caisson, the path of Benedict Arnold' s retreat and our overnight destination, the City of Vergennes in Vermont, the location where General Macdonough constructed his fleet.
After breakfast on day two, we travel via land transportation to the Lake Champlain Maritime Museum. Here you will explore the vast history of Lake Champlain through hands- on exhibits, shipwreck discoveries and full-scale replica vessels. Learn of the 1776 Revolutionary War in the Champlain Valley, visit the 18th Century blacksmith and climb on board the replica Revolutionary War gunboat Philadelphia II. Return to the Moonlight Lady and sail south down the Vermont shoreline to Whitehall, New York. Along the way, pass Button Bay, Arnold' s Bay, Mount Independence, the fort at Crown Point, Mt. Defiance and Fort Ticonderoga. We have dinner and overnight in Whitehall, the birthplace of the U.S. Navy.
On day three, a local tender explains the lock system and we visit the Skeensborough Museum. Witness wooden ship models, 19th and 20th century household items, paintings, a lake boat, canal boat and railroad work items. Memorabilia features quilts, glass, china, dolls, doll furniture, children's games, farming and ice cutting equipment, cannon and shot and early 20th century medical equipment. Maps, photographs and artifacts describe involvement in the Revolutionary War and the War of 1812.
Lunch will be served underway as we travel to Fort Ticonderoga. We will be transported via land transportation, to explore this historic site. Fort Ticonderoga, formerly Fort Carillon, is a large 18th century fort built by the French. It was constructed between 1754 and 1757 during the Seven Years' War, often referred to as the French and Indian War in the USA, and was of strategic importance during the 18th-century colonial conflicts between Great Britain and France, and again to a lesser extent, during the American Revolutionary War.
You will be greeted by a costumed guide and given an historical introduction. Then enjoy the extensive museum exhibits and the King' s Garden at your leisure. Depart the Fort late afternoon and cruise to Essex for dinner and overnight docking.
Our last day takes us from Essex to the Shelburne Shipyard, an 18th century shipbuilding site. The steamboats built at the Shipyard were some of the finest and fastest on the lake. Beginning with General Greene, which was 75 feet long and cost $12,000 to build, the Shelburne Shipyard built 11 more sidewheel steamboats. Ticonderoga, the last sidewheeler to be built on Lake Champlain, was preceded by two similar ships, Chateaugay and Vermont III. These marked a milestone for the Shipyard, in that their hulls were made of iron.
From the shipyard, we travel via land transportation, to the Shelburne Museum. Discover treasures from America' s past at the Museum, described as one of the world' s great museums of American folk art, artifacts and architecture. The Museum' s founder, Electra Havemeyer Webb, was a pioneer collector of Americana and American folk art. Explore 37 exhibit buildings, stroll through 45 scenic acres, and discover 80,000 pieces of Americana, including the most important collection of wildfowl decoys in the world, an outstanding collection of quilts, coverlets, and hooked rugs and over 200 horse-drawn vehicles. See the 220-foot side-wheel steamboat, the Ticonderoga that is a National Historic Landmark. Have lunch on your own at the Museum Café.
Mid afternoon we return to the Moonlight Lady and cruise back into Burlington where we arrive at approximately 4:30 pm.
Your package includes:
» 3 Nights Accommodation
» 3 Breakfasts
» 3 Lunches
» 3 Dinners
» Admission to the Lake Champlain Maritime Museum
» Admission to the Skeensborough Museum
» Admission to Fort Ticonderoga
» Admission to the Shelburne Museum
» Ground transportation
» On-board historian
Departs: 10:15 am
Returns: 4:30 pm
Package rate:
957.00 per person double occupancy
1,627.00 per person single occupancy

Taxes and port charges will be added to the above rates as well at a 3% convenience fee for credit card purchases.
Note: Cruise itinerary is subject to change at the discretion of the Captain
THIS IS A FASCINATING LEARNING ADVENTURE FOR HISTORY BUFFS!
Dates Available:
Click here to view our cruise schedule calendar

Monday, May 28-Thursday, May 31
Monday, June 4-Thursday, June 7
Monday, June 11-Thursday, June 14
Monday, June 18-Thursday, June 21
Monday, June 25-Thursday, June 28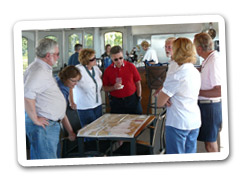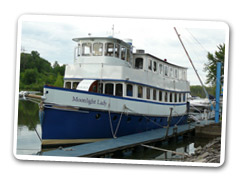 Cruise Into History Chart
View
Moonlight Lady - Cruise Into History
in a larger map