On Board Activities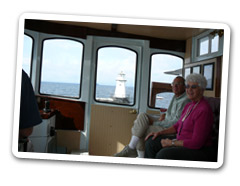 Sky Deck
The Sky Deck is the ultimate location for viewing the lake, and enjoying good food and the camaraderie of your shipmates.
The Pilot House

Join the Captain and learn about the Lake Champlain region from an experienced navigator.

Kitchen

Our chef loves company! Feel free to stop by to visit, have a beverage and observe, or don an apron and help with the preparation!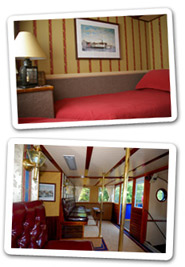 Horizon Deck
The Horizon Deck houses 8 Private Cabins, the Bow and the Observation Area.
Private Cabins

Each cabin has two twin beds, under-bed storage and a showerlet unit (toilet, sink, shower). Expansive windows showcase the world on the water.

The Bow

The Bow offers a cozy outdoor space designed for relaxing and taking in the sites. Sit back with a good book and soak in the fresh air. Naps are permissible!

Observation Area

The Observation Area is located inside, just behind the bow. The comfortable upholstered bench seating and large windows afford the opportunity to search for Champ, the Lake Monster, in any kind of weather.
Admiral Deck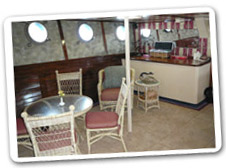 The Admiral Deck, referred to as the library and lounge is a comfortable indoor space to enjoy with your crewmates. There is a large screen television for viewing classic movies. The comfortable seating arrangement is the ideal setting to curl up with a book or to play cards or a board game.