Discover Montreal-Bienvenue Quebec!
Seven-Day, Six-Night International Cruise/Land Vacation
Climb aboard for an international cruise that includes one and one half days to enjoy Montreal at your leisure!
Depart Burlington and cruise north throughout the day to St. Jean Quebec, an old-style French Seaport. Lunch and dinner are served underway. Upon arrival at dock, take a moonlit stroll along the old tow-path or visit the nearby "Marina Bar" for a nightcap.
Day two brings adventure, as we make our way through the lock system in Chambly and cruise into St. Ours. In St. Ours, we tie up on an island that is actually a park! You are welcome to disembark and walk around the park to witness the native flora, fauna and rapids. Enjoy dinner under the stars on board the boat.
Depart St. Ours early morning and arrive in Montreal mid afternoon. Begin your Montreal discovery, as the afternoon and evening are yours to explore this exciting city. The ship docks in the Old Port, a convenient location to shops, galleries, boutiques and restaurants. Savor French flavors in the restaurant of your choice.
After breakfast aboard the ship on day four, spend the day at your leisure in Montreal. The opportunities are boundless: Take a guided walking tour, rent a bike and ride through the city, shop in this renown fashion hub, visit museums, markets and galleries, try your luck at the Casino, visit the Botanical Gardens, tour the Basilica or take a hansom cab ride through the old city. You are welcome to return to the ship for lunch. Dinner is on your own in Montreal.
Say adieu to Montreal on day five. Breakfast is served underway as we travel to Chambly where we arrive late afternoon and overnight. Prior to dinner on board, shop on Main Street, visit the Old Fort (admission not included), or stop in the Brewhaus and sample some amazing beers and ales.
Day six takes us from Chambly to Malletts Bay, Vermont where we arrive early evening. Enjoy a memorable farewell "dinner at the Captain' s table."
Breakfast is served underway as you take in the beautiful scenery surrounding Lake Champlain's islands. Arrive back in Burlington at 10:15 am.
Your package includes:
» 6 Nights Accommodation
» 6 Breakfasts
» 6 Lunches
» 4 Dinners
» Free time in St. Jean
» Free time in St. Ours
» One and one half days in Montreal
» Free time in Chambly
Departs: 12:30 pm
Returns: 10:15 am
Package rate:
1674.00 per person double occupancy
2846.00 per person single occupancy

Taxes and port charges will be added to the above rates as well at a 3% convenience fee for credit card purchases.
Note: Cruise itinerary is subject to change at the discretion of the Captain
Dates Available:
Click here to view our cruise schedule calendar

Sunday, July 22-Saturday, July 28
Sunday, August 12-Saturday, August 18
OF IMPORTANT NOTE FOR INTERNATIONAL TRAVELERS:
International Travelers:
On June 1, 2009, the U.S. government implemented the full requirements of the land and sea phase of the Western Hemisphere Travel Initiative. The rules require most U.S. citizens entering the United States at sea or land ports of entry to have a passport, passport card or other travel document approved by the Department of Homeland Security.
U.S. citizen children under the age of 16 will be able to present the original or copy of their birth certificate, or other proof of U.S. citizenship such as a naturalization certificate or citizenship card.
Groups of U.S. citizen children ages 16 through 18, when traveling with a school or religious group, social organization, or sports team, will be able to enter under adult supervision with originals or copies of their birth certificates or other proof of citizenship. See the Department of Homeland Security's "GetYouHome.gov" for more information on the changing travel requirements.
U.S. and Canadian citizens under the age of 16, or under the age of 19 traveling with a school, religions or other youth group, may present a birth certificate, consular report of birth abroad, naturalization certificate or Certificate of Canadian Citizenship. Birth certificate may be an original, photocopy or certified copy.
The group should be prepared to present a letter on organizational letterhead with the following information:
The name of the group and supervising adult,
A list of the children on the trip, and the primary address, phone number, date of birth, place of birth, and name of at least one parent or legal guardian for each child,
A written and signed statement of the supervising adult certifying that he or she has obtained parental or legal guardian consent for each participating child. The group should be prepared to present proof of such consent in the form of permission slips signed by both parents.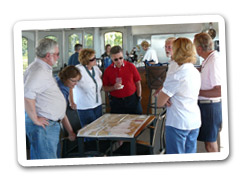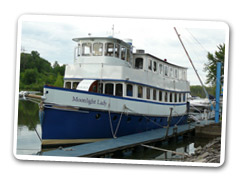 Discover Montreal Chart
View
Moonlight Lady Cruise - Discover Montreal
in a larger map